MIAMI BEACH, FL, June 24, 2019 - Edan Instruments attended Florida International Medical Expo in the 26-28 June 2019 with our brand-new products. Through this largest trade fair across the Americas, Edan has met a significant amount of healthcare and trade professionals from throughout Latin America and beyond at FIME's original home in Miami Beach. Edan seized FIME as a great opportunity to bond with the American market and to introduce our newest products to the world.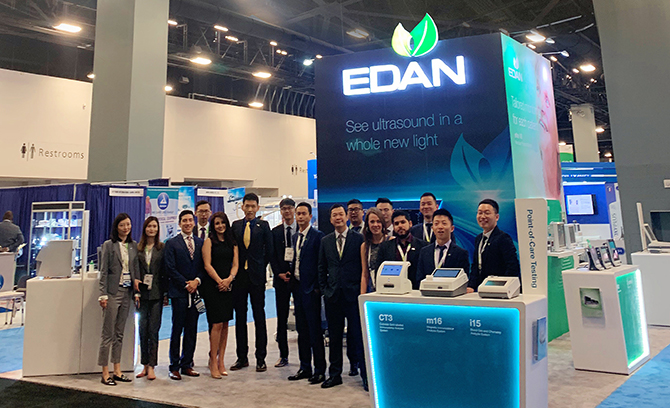 Most visitors are amazed by the product appearance design and the mobility of the product presented this time. The ultra-slim X series patient monitor and the ultimate lightweight alloy ultrasound device Acclarix AX3 won over our visitors' heart with delicate exterior design. Except for the appearance, the stunning clarity our ultrasound device Acclarix LX9 offered surprised the visitors through the live demo. This masterpiece is ready to launch to change the ultrasound industry in the second half of this year.
Our new OB product, FTS-6 Mobile, also draws many attentions by its whole new concept of the distance monitoring system, which enables pregnant women to monitor their pregnancy conditions at home with one little device tested by doctors or under the doctors' remote guidance. Except for the portability, the comprehensive medical solutions offered by our diagnostic ECG products attract many professionals likewise. With the 18-lead Resting ECG SE-18 and the PC-based workstation SE-1515, hospitals can have a streamlined workflow to boost productivity and to better monitor their patients.
Although it has been a while since Edan released the hematology analyzer H50 and the point of care testing device blood gas and chemistry analyzer i15, they still brought up viewers' interests by its minimum maintenance requests, its high efficiency, and the lightweight.
The presentation of our products and medical solutions at FIME enable us to test and hear the opinions of the audiences. With more than ten years exhibited experience at FIME, it becomes the perfect timing to establish new distributorships, present our newest medical solutions and to personally catch up with and thank our regular customers.
When mentioned about the American healthcare industry, Edan's global marketing director Alex You said "We are talking about the biggest market for the medical devices. We've got a lot of challenges here by the government society, like aging and healthcare reform. But, as a manufacturer and a company making medical devices, that's one of our biggest opportunities." In order to better serve the community across the Americas, Edan set two offices in California.
As for FIME, to exhibit at such an optional hub for business and gaining medical insights, Edan has always been excited to share our newest products and technology to the world. Every year, the expo makes a huge impact on millions of people's health. And to Improve people's healthcare conditions is one of Edan's core value since the very beginning. So, it has always been an honor for us to attend such a global event. Check FIME TV Show with Edan for more information of FIME 2019.